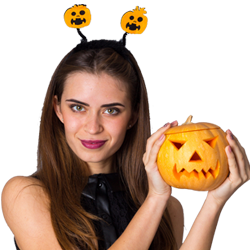 Tampa Bay business owners who sell goods and services related to Halloween can expect far more treat than trick this year.
Based on estimates from The National Retail Federation (NRF), Tampa Bay consumers are expected to spend a record $102,960,877 on Halloween. This would be 19.3% more than was handed out in 2020.
The NRF estimates that 65% of consumers intend to celebrate Halloween or participate in Halloween activities this year, up from 58% in 2020 and comparable with 68% in 2019 before the COVID-19 pandemic.
The top ways consumers are planning to celebrate include handing out candy (66%), decorating their home or yard (52%), dressing in costumes (46%), carving a pumpkin (44%), and hosting or attending a party (25%).
Tampa Bay small business owners looking to scare up a share of this Halloween cash will need to advertise to drive local consumers to their stores and websites. But, to make a difference, advertising needs to begin right away.
"This year consumers are shopping for Halloween items earlier than ever," says the NRF, "with 45% planning to shop in September or earlier and another 39% during the first two weeks of October."