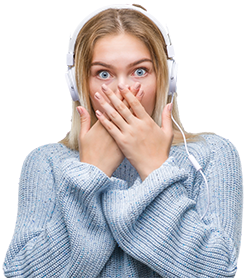 Striking a wrong note is a potent tactic that a Florida small business owner can use when advertising on Tampa radio stations. This can ensure commercials are heard and remembered.
At the very second a radio commercial starts, 11,000,000 other pieces of data are battling for the attention of the listener's ear. To win the fight, an advertisement must do the unexpected. Why?
Humans don't have earlids. This means every sound a person is exposed to makes it as far as the brain. But, the brain can only process about 50 pieces of information at a time. If you do the math, that means 10,999,950 bits of information per second are turned away.
Making it past the brain's gatekeeper requires the information to strike a wrong note or violate what is expected This filter supports the basic survival instinct. It's why someone will leap out of bed if they hear a stranger's soft footsteps while sleeping, but will snore right through their clanging alarm clock.